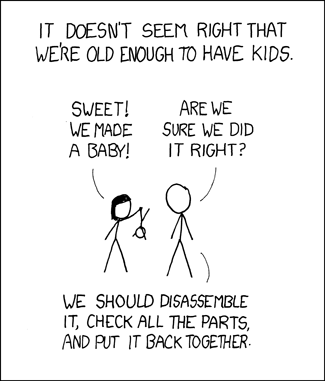 The double digits have arrived.
There are less than
100 days
left before my due date. Tomorrow, we start our
childbirth class
in Fishers, and will be attending that weekly through the beginning of December. I'm determined to start back at the prenatal yoga classes, too. My sister already has the baby shower invitations set. I ordered my first set of
diapers
yesterday (free local delivery!). A friend's mom at church noticed I was expecting and asked, unprompted - the first person to notice my growing belly without being told.
The second trimester has flown by. Will these last days drag on, or will they fly by as well, with all the baby preparations coupled with the typical holiday busyness?
Outdoor projects still need to be finished before it gets too cold. Last week, we had a couple days in the 90's, and then Fall arrived in full force with yesterday, today, and tomorrow's temperatures topping out in the 60's. I'm wearing shoes with socks for the first time since Spring. The sudden onset of Fall is making the projects look even more urgent. Josh is amazing, and is working hard to get many things done. I'm not being much help outside, but am doing my best to get things organized and taken care of indoors.
On one hand, I think we have lots of time left before Baby makes his appearance- 12 weeks, at least! On the other hand, I see everything else that needs to be done - celebrating family birthdays, attending holiday parties, painting, decluttering, sorting, organizing, saving, planning - and I wonder when it will all happen. I'm not really stressed about it all- I'm taking everything one week, one day at a time. This just happens to be a particularly busy week.
It's not blasphemous to not put up decorations for Christmas, right? Because I'm seriously considering leaving the tree and garland and

LED christmas lights

in their boxes this year. One less thing to clean up within a week of my due date.