(Disclaimer: I started the post almost a week ago. I fear it has gotten ramble-y and unfocused. I apologize in advance. Also, Ashley beat me to posting this comic, which I sent to her when I started this post. That's what I get for being slow to the Publish button...)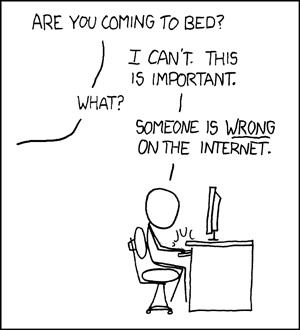 I'm a pretty quiet blog-reader. I know that if I was pursuing more traffic for this blog, I'd get out there and comment on posts left and right, but I don't. The primary reason for this is, I don't have the time (or want to make the time). There are lots of other things to do away from a screen.
More importantly, perhaps, is another reason why I stay silent. This week at church, the text that was discussed was the first verses of
Philippians 2
:
1If you have any encouragement from being united with Christ, if any comfort from his love, if any fellowship with the Spirit, if any tenderness and compassion, 2then make my joy complete by being like-minded, having the same love, being one in spirit and purpose.
According to this, what should distinguish Christians, since we have so many good things from God?
Being like-minded
Love
Unity in spirit
Common purpose
Hmm.
So, how are we doing
? Is this what Christians are known for?
Common purpose
?
Unity in spirit
?
Love
? The speaker cited a
few
examples
. My daily glance at the blogosphere reminds me of the deep divisions in the Church. Based on a recent conversation with a coworker, we're known for the
opposite
of the characteristics on this list. It's true- we as the Body of Christ aren't exactly perceived as being "united" & "pursuing a common purpose". I just came across a
TIME article
that makes me think we're consumers first and Christians second. It bothers me, really. We're out with our own agenda, looking for a "faith community" that fits the bill, and then continue with our own agenda "in the name of Christ".
Paul goes on to how to achieve these distinctives.
3

Do nothing out of selfish ambition or vain conceit, but in humility consider others better than yourselves.

4

Each of you should look not only to your own interests, but also to the interests of others.
Wow. Convicting. What about my
opinions
? What about my
rights
? What if I
know
I'm
right
? "Consider others better than yourself."
Do I always need to be right?
Do I always need to have the last word?
Do I always need to answer my critics?
Do I always need to correct a "wrong" opinion or interpretation?
As hard and nonintuitive as it is, for the sake of others and of
the reputation of Christ's Church
, I should let things slide. I don't need to stay up at all hours because Someone Is Wrong On The Internet. I do not need to rebut all the posts that insist that a different way of doing the Christian life is the One Right Way- whether it be belonging to a certain denomination or participating in a certain worship style or voting for a certain political party. Perhaps if I stop insisting my style is the Only Way, others will figure out what I'm now realizing- we do have Christian liberties and differing opinions and preferences and interpretations, and that's OK. We can live for God each in the way He has called us to.
I had a friend call me in a worried tone a few weeks ago. She has a friend who she has been praying hard for to find Christ, and she had heard from him he started attending church with another friend! That was exciting news... except it was an
Episcopal
church! Her father said this was an awful thing- might as well be
Catholic
! Her father (and, stereotypically, their denomination) has deep-seated prejudices. I told her what I knew- that there are devoted Christians in both the Episcopal & Catholic churches, ones whom I respect very much. It's possible to meet God in that worship style.
Whatever you do
, I told her,
don't call him & tell him all the things wrong with the one church he's finally decided to visit & feel comfortable in
. This would just give him yet-another bad taste in his mouth for Christians, and Him who we represent. Pray that he can see Christ & learn more about Him where he's at, wherever that may be.
Back to the blog commenting thing- I get angry every time I happen upon a "Christian" blog (or hear "Christians" in the media) railing on other Christ-followers or their life choices in a very unloving way- choices that aren't "sinful" or explicitly "un-biblical" but just don't match the writer's preferences & own choices. I see both writers who I agree with and those who I don't doing this, and, as I said, it annoys me. I'm going to try to not do it myself, in my words or my blog posts. I'm going to try to be more pointed about leaving encouraging comments or comments that encourage unity rather than ones that disagree and cause disunity among the Body when I'm perusing blogs. If a comment pops up here on Keeping Feet that doesn't reflect unity, I'll probably leave it where it is, but not respond, unless I feel I was misunderstood or there's a chance at finding common ground. I don't need to have the last word. I don't need to prove myself "right". I do need to love others. "
Consider others better than yourselves.
" Confession: Sometimes I find it hardest to love fellow Christians.