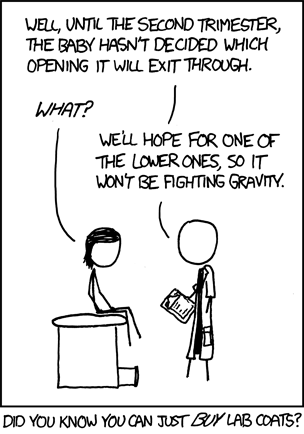 So far in class, we haven't talked too much about
actual
childbirth- last week, we talked about exercise, and this week, nutrition for a healthy baby, as opposed to "
diets that work fast
"-type eating. I'm now tracking what I eat, walking 20 minutes a day, practicing relaxation for 20 minutes a day, and doing some other exercises. Josh has been patient and helpful as we practice working together as a team. I'm a lucky lady, to have him as my coach.
Between daily exercises, Tuesday night childbirth classes and Thursday night prenatal yoga, I feel like I'm going to be
all-labor-prep, all-the-time
between now and December. Everyone I've talked to about the
Bradley method
says it's worth it, though, so we're determined to keep it up. Also, I've taken to heart what I've read in
Husband Coached Childbirth
- labor will be like running a marathon, so I need to train and be ready. I have a couple friends & family members who have been training for a marathon, so I see the dedication it takes!
The preparation has begun!