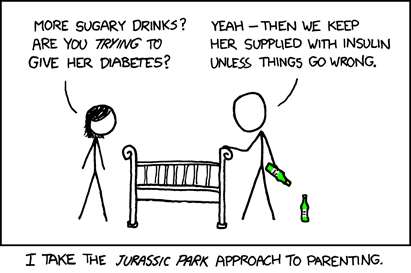 * I've never made it through the whole Jurassic Park movie. I've probably seen most of it, in bits and pieces, but not all the way through.
Feeding babies is a hot topic. The
breastfeed-until-they-start-kindergarten
camp and the
formula-is-the-best-thing-ever
camp have been going at it for a long time, and most people fall somewhere in the middle- and are very adamant about their position. Most (all?) of my friends have had varying degrees of success breastfeeding, so I knew it's something I want to try.
I keep saying "try" because I know fewer moms who have breastfed and pumped after going back to work full time, so have fewer examples to point to. I'm being told by some that it isn't worth the hassle, and by others that I'll make it a year, if I'm determined to. And, I'm pretty determined. Why?
So, will I make it? I hope so. We're going to do what's best for our family, and I'm going to strive to breastfeed as long as we can. From what I've heard, getting started isn't easy, but once my boy & I get the hang of it, it will be so rewarding- and the bonding time will be extra-important, since we won't be together all day, every day. I'm thankful for all the support I'll have, and for the mom-friends I have that have gone before me. You ladies are awesome!