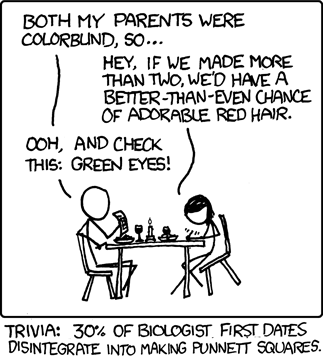 While I'm not a biologist, and I haven't drawn out any
Punnett squares
, I have thought a little about what this kid will inherit, both good and bad.
We both have seasonal allergies, but different seasons. Josh struggles with pollen mostly in the fall. I have early-summer allergies (I know, weird.) Will our kid be sneezing half the year? Or will they get by without any trouble?
Josh has food allergies. Are these inherited? If they are, can they be prevented by delaying introducing the foods until later? I've found mixed answers in Dr Google to these questions.
I sunburn easily. Josh gets a great tan and rarely turns pink like I do. Whose skin will this baby get? Let's hope I'll get to skip the massive amounts of sunscreen I had to use as a child.
My family's fairly tall. Josh's is average-height. Will our kids be tall or short?
Josh's family has amazing musical ability, both on instruments and singing. I have none, zero, zilch. Will this kid follow in their dad's (and grandparents, uncles, first-cousins-once-removed's) footsteps and not be entirely tone deaf like me?
Neither of us have much athletic ability. I played basketball from third grade until freshman year of high school, but was no star. Will this kid somehow be an athlete, with no help from our genes? Or are they doomed to embarrass themselves in gym class like I did? Will a klutz make our

auto insurance

rates go up?
We have about the same color hair- I'd call it a "light brown" or "dark blond". Will all our kids have the same color hair, too, or will they have darker hair like some of their grandparents- or really, really blond hair, like an uncle and cousin?
What personality traits are genetic? I know "nature vs. nurture" is an age-old debate, so we may never know if our child is mimicking us, or is hard-wired to be like us.
I seriously can't wait to meet this kid, and see who God is creating right now, a little individual that may or may not remind me of myself.

Did you see what your child inherited from you when they were a baby, or did it take longer to "see Mom & Dad" in them?